Hill Climb Fever: Behind the Scenes at Goodwood Festival of Speed 2022 With Host Broadcaster Gravity Media
As the Goodwood Festival of Speed opened its doors to the public for four days of racing and all things motorsports against a spectacular setting in West Sussex last week, Gravity Media also geared up for a busy event. This was Gravity Media's first year as the host broadcaster for Goodwood, after it took over the contract from Aurora Media Worldwide.
Comments Laura Wignall, Gravity Media's business development manager: "Festival of Speed is really unique because the Duke of Richmond allows his Goodwood house to host the event and have the hill climb racing right outside his property, so it's really spectacular and unusual. You've got the hill climb, the rally, and then of course the sub cut, so we've got the multiple galleries going on."
Adds Wignall: "We're on air 10 hours a day, so it's a big one."
Busy production
Goodwood Festival of Speed is taking place over four days. The rigging time for Festival of Speed is short and sharp. The rig crew headed to site on Friday 17 June, giving them less than one week before the event starts on 23 June.
Over the next four days Gravity is producing 40 hours live on air for the world feeds, as well as three and a half hours on ITV's main channel across the Saturday and Sunday. To make this happen, Gravity has pulled in 180 members of the crew, most of whom will be on site; only the highlights production and other clipping elements will take place off site at Gravity's London base.
However, Goodwood itself has been installing fibre on site, which will mean that going forwards Gravity will have the connectivity required to pull more crew off site to operate remotely, says Wignall.
She notes: "I think in the long run, hopefully we'll be able to take a few more elements of the operation offsite to make it more hybrid. Of course the great thing is that because of it being only in Sussex, we're not having to freight things around the world, so environmentally, at least there's not a huge travel footprint, and few [crew] live quite locally. We've got a fair amount of members of staff that don't need hotels because they live within an hour's drive. So in that sense, it's really good as well."
New perspectives
Gravity is rolling out a new wire cam feature for the Festival, with a Dactylcam. Says Wignall: "It will be the first time that the wire cam will be used at Goodwood. The Duke has given his special permission for us to put that up. It's a 350 metre long cam and that 350 metres goes past Goodwood house, so the cars come up towards the house on this beautiful tree lined road, and then cut next to the house to go up the hill. So it's a really unusual, spectacular view.
"We're also using our inhouse mini cams, which we've used in various guises as neck cams or as helmet cams on different events around the world. We've also got some onboards, so we ask particular drivers and manufacturers about putting those onboards on, which will give a different perspective as well."
For the 2022 Goodwood Festival of Speed Gravity is rolling out:
Around 15 kilometres of fibre cabling across rally, hill climb and for site connectivity
Two TV compounds and multiple galleries (hill climb, sub cut, rally, ITV, world feed)
Wire cam for the first time (350 metre-long Dactylcam)
Inhouse-developed mini cams plus a variety of other fast pan robotic hotheads
Around 30 cameras in total being used across the site
Eleven 12-channel EVS machines in use
Six onsite Avid edit suites
Six to eight onboards (depending on permissions from drivers and manufacturers)
Specialist experience
Gravity recently bought in Martin Turner as exec producer across all three Goodwood events as with his career focused on motorsport, he is able to use his knowledge and experience to create the editorial direction of the productions, as well as bring in the right talent and crew for the editorial team to back up Gravity's expertise in production and technical.
Says Wignall: "We've made sure that [the same team is] across all three events to have that consistency for Goodwood. Some of the producers [and directors] are leading one [event] and then another is leading [on a different event] to give a different flavour."
ITV Sport is rotating its directors and producers to suit the three Goodwood events, which, notes Wignall, is especially pertinent to the Revival, "which has got quite a different vibe to the other two with this nostalgia as people dress up and it has that kind of event feel that you have at Ascot or Wimbledon".
She continues: "For Revival, we have a director for ITV who's done a lot of other events and is more event-orientated, and the same with the producer, but you still have that world feed motorsport producer and director working alongside them. So that one's slightly different, but in terms of the consistency across all three events, it's the motorsport expertise and the same team working across the year that's key.
"Across all three events we've got two separate galleries," continues Wignall. "One for the world feed and one for the ITV presentation. Obviously the world feed is able to cater for everyone outside of the UK for Goodwood, so they have their own advertising spaces and elements that would not be compliant for ITV. The ITV show is a two hour self-contained show that has the world feed live production feeding into it, but it has a completely separate feel and separate presenters [to the world feed]. It's led by ITV Sport's editorial."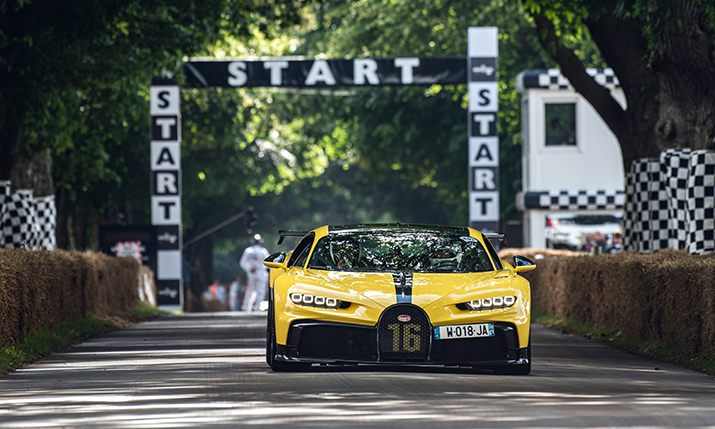 Collaborative effort
Wignall comments on why Gravity got the job: "I think that [Goodwood] liked the element of the account and project management that we bring; our business development team is really strong. We've now got a representative for OBs, production, post production and rental as well. I go down to Goodwood almost weekly and I speak to them a lot on the phone and we have a really close relationship, and there's a lot of bouncing back and forth of ideas and that I think they really wanted to have that involvement and transparency."
"It's that human element of feeling like you're close to the project and that it's not just being delivered without them really understanding how it works," she continues. "I think [the Goodwood team are] learning a lot because they don't have much TV experience inhouse. They've got motorsports understanding, and even though they've had broadcasters there for many years, I think they're understanding more now about how it all works and that helps us as well, because then they have an appreciation when we're actually we need to move cables over here or make this position work better.
"It's a really collaborative relationship and now we've done one small one event with them in April, the Members Meeting, going into Festival of Speed we're all feeling really more confident that we've got that under our belts," she continues.
She concludes: "We're really interested in doing end to end projects, Like with Goodwood. The fact that we're providing them with the technical, but also the production expertise, all as a one stop shop, is key. Our production centre in Chiswick does a huge amount of production for motorsport and especially in the football world for UEFA and The FA and so on. We're really trying to bring those areas together.
"Ever since we became Gravity Media in 2019 as a result of merging the various companies we owned, we're doing more of those end to end productions and Goodwood is giving us these opportunities."
Gravity Media will supply more than 90 hours of live content across the three Goodwood events, including six days of live coverage for ITV. There will also be world feeds for international partners, dedicated digital production, exclusive partner content and fully crafted highlights shows for domestic and international fans.
The 2022 Goodwood Festival of Speed takes place from Thursday 23 June until Sunday 26 June in West Sussex.